Definition
When a business makes cash transactions, the bookkeeper or accounting software can record them in a Cash Disbursement Journal. This journal is a specialized journal to record all cash outflows of the business. Note that any cash inflows are recorded in the Cash Receipts Journal. By itemizing all cash payments, the Cash Disbursement Journal helps businesses organize and manage their outgoing cash records.
Format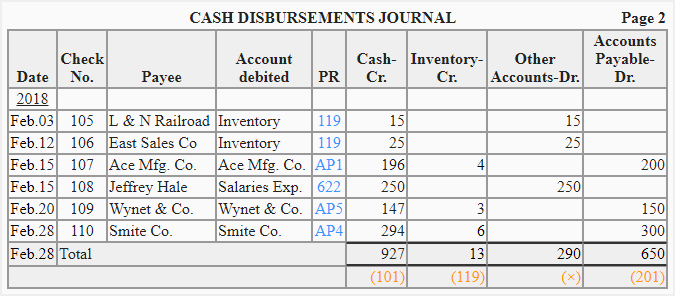 Let's take a look at how this bookkeeping journal looks like. This journal includes a date, check number (in most cases, a check is written instead of physical cash being paid or disbursement is made in any other form of immediate payment), and the name of the payment recipient. Next, you would specify what the payment was made for by recording the name of the account being debited and its reference (PR) number.
The payment amount is recorded in the Cash column. The Inventory column is used to account for any discounts. For this reason, you might see it being simply referenced as Purchases Discount. For any cash payment that does not involve purchases, the bookkeeper would use the Other Accounts column. The Accounts Payable section is used to record the amount for which the supplier's account is debited.
Examples
There are multiple cases when this particular journal is used. These include payment of cash for:
Cash purchases
Various business expenses
Accounts payable or creditors.
Another example would be refunds for goods returned that are made in cash or cash equivalents. Now, let's record an example transaction.
On January 17th, B&B Supply issued check number 167 to Robbins Corp. to buy store supplies for $780.
First, we enter the date and check number. Under the payee, we will write Robbins Corp. The accounted debited in this case will be Store Supplies and since it does not fall under Accounts Payable, we will enter the amount under the Other Accounts. In the Cash column, we will enter the corresponding credit amount.
Cash Disbursements Journal
| | | | | | | | | |
| --- | --- | --- | --- | --- | --- | --- | --- | --- |
| Date | Check No. | Payee | Account debited | PR | Cash – CR | Inventory – CR | Other Accounts – DR | Accounts Payable – DR |
| Jan. 17 | 167 | Robbins Corp. | Store Supplies | | $780 | $0 | $780 | $0 |